When creating a new section from scratch, you're given the option to choose one of two different kinds of sections: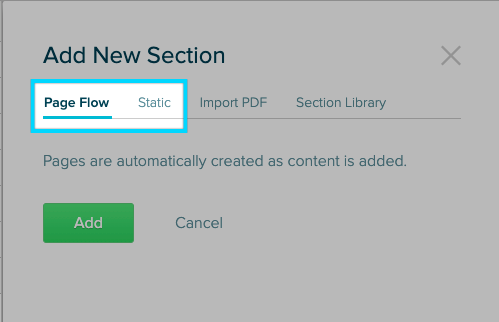 Static sections are a blank canvas that allows you to show off your design flair to the best of your abilities. This makes static sections great for "about us" pages, testimonials, design portfolios, and any section that needs more pictures than words or a more fluid layout.
Adding a page to your static section
To add a page to your static section, click on the + button found in the section's page list in the section menu on the left-hand side:


his will add a new blank page to that section.

Can I change a section to Page Flow?
Once a section has been set as either Static or Page Flow, it's set forever. If you would like to use a page flow section instead, you can create a new page flow section and copy/paste the content from your current section to a text box in the new section.