How do I resize my table?
Resizing your table depends on the kind of fee table you're currently working with: an inline table, or a stand-alone table. Inline tables are embedded within a text box, whereas stand-alone tables are separate from other elements and movable across the page.
Resizing your stand-alone tables
To resize your stand-alone table, simply click and drag on one of the corners to resize it: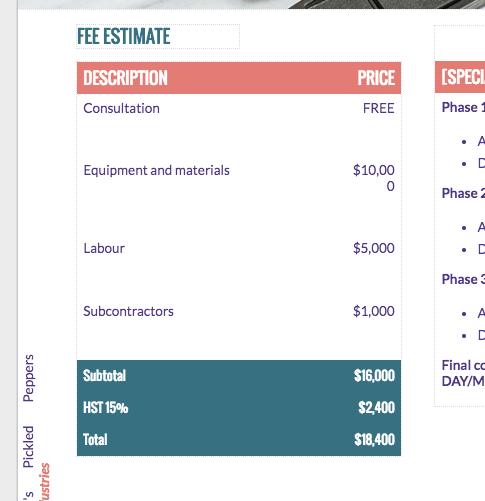 This will add or remove any white space between your line items, as well.
Resizing your inline tables
Since inline tables are based on the text-box they are currently added to, then it will automatically stretch to the farthest left and right of the text box it's attached to.
Free-Form text boxes
You can resize freeform text boxes by clicking and dragging the corner of the text-box: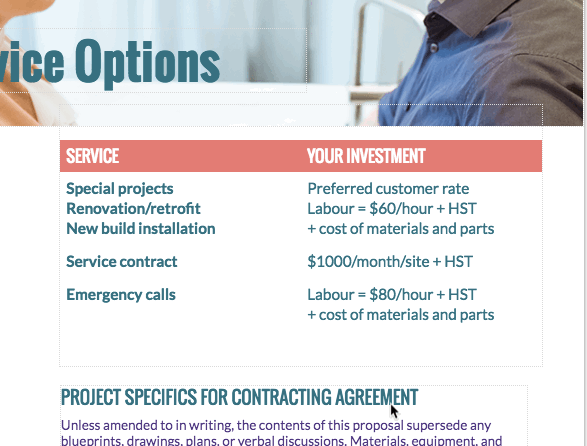 When you resize the width of the text-box, the table's sides will expand to match.
Page Flow text boxes
If you'd like to shrink the sides of a page flow text box, you can do so from Page Settings, found by clicking the button from the right-hand menu: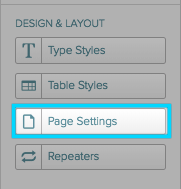 From there, either increase or decrease the margins on the left or right, depending on what you're looking to do. Important note: this will also change the margins for every page flow text box, not just the one you're working on. You can find out more about Page Settings here.

If you're still finding too much white space in your inline table, you may need to fudge with the margins of the cells themselves. You can adjust this from the Table Styles/Style Table options. Click here to find out more about Table Styles/Style Table.