Proposals are not the only documents you need during your sales cycle. There are sell sheets, NDAs, scope of work contracts, presentation decks, and more. Each of these may need their own preview setting. While setting an account preview setting can help, your team may still see delays while tweaking preview settings. Worse, they might forget, leaving an element in the preview that may confuse the prospect.
Proposify has a tool that helps set currency and preview settings straight from the template. When set, these automatically apply to every document created from this template. No more bottlenecks, no more errors, and most important: your team will save time.
Not sure if this article has what you need? Here's what we'll cover:
Opening the Template Settings Menu
To open template settings, enter the Editor page for the template of your choice. From there, click template settings, the notepad icon at the top of the menu pane:


This will open the template settings menu, starting with the options tab.
Options in Template Settings
Options tab:



Template name
Here is where you can set the name for your template. Changes here will affect where the template appears in the Template Library.
Billing settings
These options update the currency of this template, as well as how the prices are formatted. If you have a specific template designed for another country, then these are the settings you'll need.
Approval Settings
When you select this option, any document made from this template will follow your approval workflow. This means reps who require approval before sending will need to do so. Click here to read more about approval workflow.
Audit Trail
Select this option to include an Audit trail to documents in viewed, unsigned, won, and lost stages. Click here for more details.
Client Preview tab: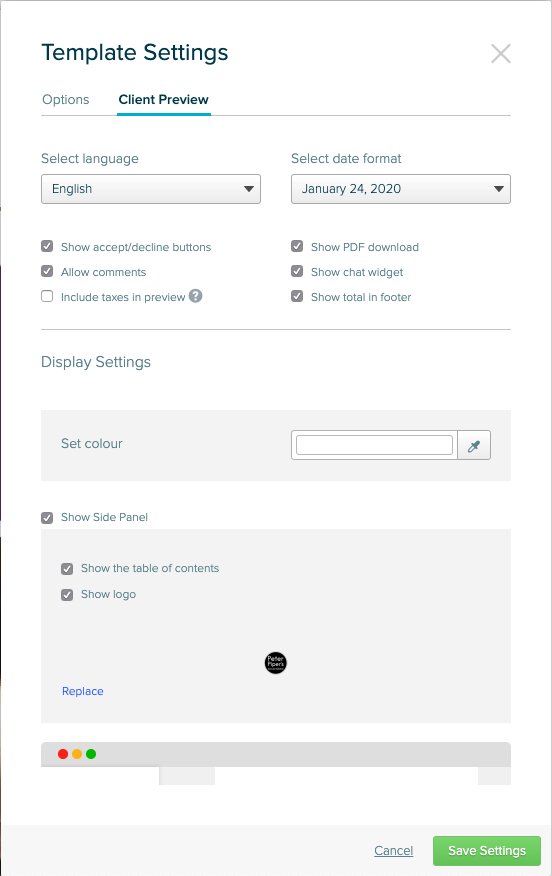 These options set client preview settings for documents created with this template. These have two different sections: general settings and display settings.
General settings
These options set the language, date format, and elements that appear in the Preview page. You can learn more about the different settings, and what they do, here:
Display settings
These options set design elements around your preview. Things like logo, background colour, and table of contents can be enabled or disabled here. Click here for a more in-depth article on what these cover:
Once you've set your preferred options for this template, select save settings at the bottom of the menu to keep them. Once done, these will be set as the new default whenever you create a document from this template. If a user duplicates a document made from this template, these settings will also apply.
Related Reading
Didn't find what you're looking for? Need more information? Here's some more material that may help: