Recover A Deleted Section
You have to submit a proposal in two hours but that section you need to tie everything together is gone. Before you start rewriting your work, we've got you covered.
HEADS UP: This only works for sections that have been used in more than one proposal or template. You will not be able to recover a lost section if it is one-of-a-kind.
Recovering your section takes two steps:
Locate where you've used the section before and save it to your Content Library.

Import that saved section to your current document.
Restore the lost section to your section library
Locate a document or template with that section and enter the editor.
If you've only used this section in a proposal in Won status, select the title of the proposal to enter the Snapshot. From there, select Duplicate to make a copy without voiding your signatures:

Once you've made it to the Editor, locate the section in the Section Pane, expand the three-dot menu, then select Save to Library.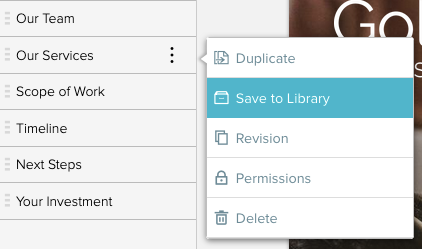 Add the section to your proposal/template
Select the + icon at the top of the section pane to expand the new section menu:

Select Section Library:

Drag the section from the Section Library to your Section Pane: