Our goal at Proposify is to give you visibility in your proposal stage to help close more deals. The Metrics page is your visibility HQ. Here, you'll be able to see how customers interact with your proposals, how much value they're providing, and how your team is performing.
Let's go over the details.
Navigating Metrics
Reaching Metrics
You can reach Metrics from the navigation menu: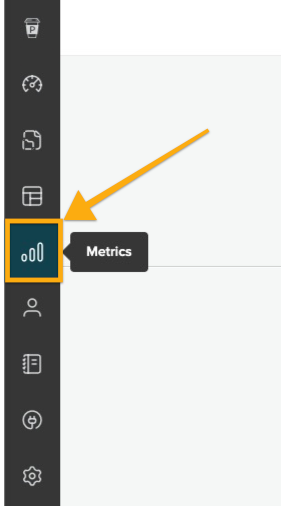 Metrics: Breakdown
The Metrics page is broken down into three tabs:
| | |
| --- | --- |
| Business Metrics | Shows the close rate of your proposals, as well as the value of each document and number of documents in each stream. |
| View Metrics | Indicates metrics on how your customer interacts with the document and how long it takes for them to open their link once you send it. |
| Reporting | Provides a downloadable table of business metrics. |
Business Metrics

Business metrics are the default view and give you insight into the effectiveness of your current process. We show you your close rate, the total number of documents in the draft stage, how many were sent, viewed, won, and lost, as well as a dollar value for each of these segments.
Further down, you'll see a chart showing your sales performance over time. Use the dropdown menu above the chart to choose the timeframe you want to analyze.
HEADS UP: For a document to show up in your Business metrics, it needs a value. If you don't have a fee table in your proposal, add a manual total of 0 to make sure the document is reflected in this metrics section.
View Metrics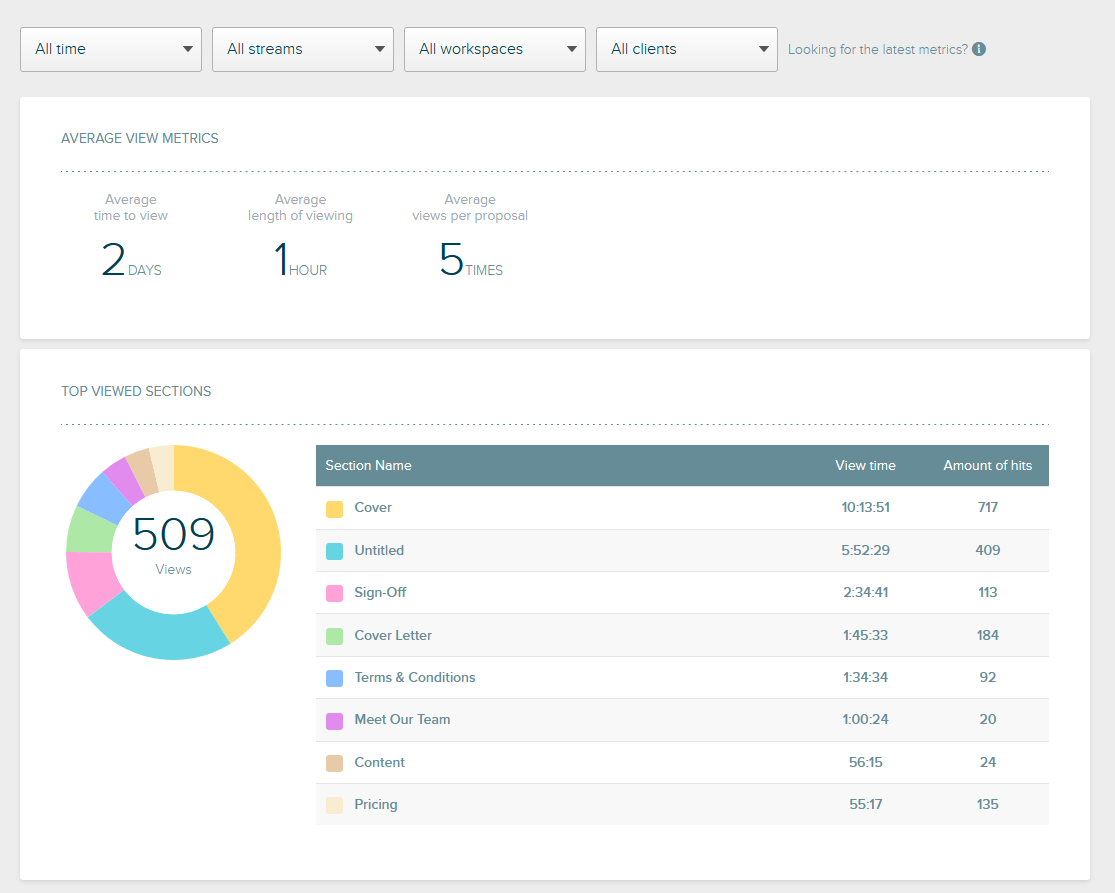 When your client views a proposal, you can find its view metrics in the proposal snapshot. You can find the stats for ALL view metrics in the metrics page. Here, you can filter these metrics by timeframe, workspace and client. Here's a breakdown:
| | |
| --- | --- |
| Average Time To View | How long it takes your client to view a document after you have sent it. |
| Average Length of Viewing | The amount of time clients spend viewing the proposal page. |
| Average Views Per Proposal | How many times your prospects open the proposal link. |
| Views | The number in the middle of the pie chart shows how many times your customers have viewed their proposal. |
| Section Name | A list of your most commonly viewed spaces, ranked from most often to least. |
| View Time | The total amount of time your prospects spend on that page. |
| Amount of Hits | The number of times your client visits that section. If this number is high, that means they're returning to that page frequently while reviewing your document. |
Filtering Your Metrics

Filtered selections will be saved automatically for every user. Once you go to the metrics page and select a stream, date range, workspace, and/or client, leave the page and then come back, all selections will still be in place.
Documents may show up in more than one category. If a Document was created, sent, viewed, and won in the last week, it'll show up in all statuses when filtering last week.
Here's a breakdown of how you can filter your metrics:
Time Frame

The first dropdown. Choose the timeframe to show results. This includes:

Weeks

Months

Quarters

Years

You can also set your own range if needed.

Streams

Choose which streams you would like to focus on.

Workspaces

Choose the workspaces you would like to focus on. You can also narrow it down to a specific user.

Clients

Choose which client organization to focus on.
Metrics and Archived Proposals
Your proposals will still show up in your metrics, even if you archive them. If you need to have a proposal removed entirely from your metrics, you'll need to delete it. Here's an article on how to delete proposals.