Looking to insert a video into your proposal? Click here for the details.
The best part about having your sales documents delivered online instead of print is that your pictures can move! Not only do we offer gif support, but you can also include videos in your document.
Supported Video Services
We support four video streaming platforms:
Youtube

Wistia

Vimeo

Vidyard
We don't currently support uploading an MP4 or other video file directly to your document.
Add A Video
You can add a video from any Editor page. To start, click Video on the Menu Pane: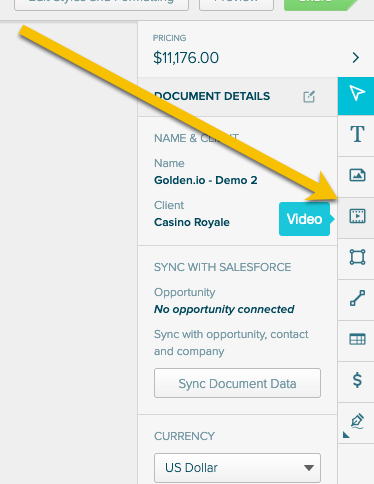 Next, click or drag your cursor over the page where you would like to see the video: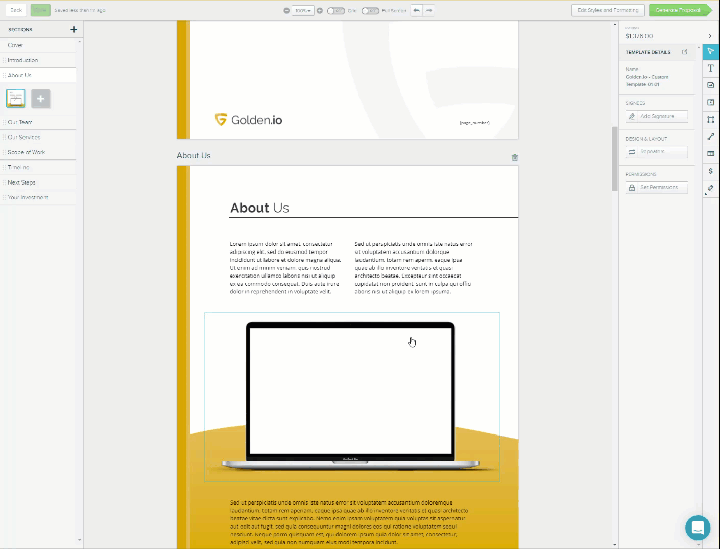 Once your video box is placed, insert your video's share link in Video Properties from menu pane (1) or select a video to embed from your Vidyard account (2):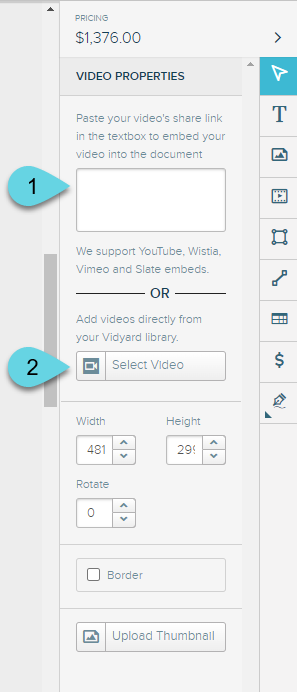 You can also use this menu to resize, rotate, or add a border to your video.
If you'd rather avoid the black box in your document. Select Upload Thumbnail. This will open your image library. Select an image (or import one) to customize your video thumbnail.
The Video Properties Menu

Here's a breakdown of the options in Video Properties:
| | |
| --- | --- |
| Embed Options | There are two fields here to help you insert your video into your document. The text box is for Youtube, Vimeo, or Wistia share links. The Select Video option is for including your Vidyard content. |
| Dimensions | Sets precise dimensions for your video element. NOTE: This does not change the dimensions of the video inside. |
| Border | Enable this option to add a border around your video. From there, select the border width, colour, and appearance. |
| Thumbnail | Click Upload Thumbnail to replace the black square with an image. |