Looking to assign permissions to Content Managers, but don't know where to start? Click here for a handy guide on best practices.
The best teams have access to the tools they need without getting in each others' way. Proposify's Roles and Permissions settings let you lock down features to specific roles. This lets your team get to work on their tasks, and your admins get to spend less time correcting changes.
There's a lot you can do with this feature, though, so we made a starter guide on setting roles.
Roles Breakdowns
In this article, you'll see a breakdown of 3 different roles: Sales Rep, Sales Manager, and Content Manager. Here's what to consider when building their roles:
Sales Rep (needs approval)
This is either a new hire to your company or a role that may need a bit more hand-holding. Limit their access to most of Proposify's features and move them to a more robust role once they've been onboarded. Add more oversight to their activity by requiring approval before they can send a sales doc.
Sales Rep (doesn't need approval)
This is a role variant saved for your more experienced reps. Provide access to the tools they need to do their job, but keep them away from tools that can interfere with other users.
Sales Manager
Think of sales managers as "Admin Light". Give them access to tools that remove barriers for their team, but without getting in the way of others.
Content Managers
Designers should be the only role that can edit the content and template library. Depending on your workflow they may need to edit documents, but you'll likely have some questions if they're attempting to send a sales document themselves.
Recommended Settings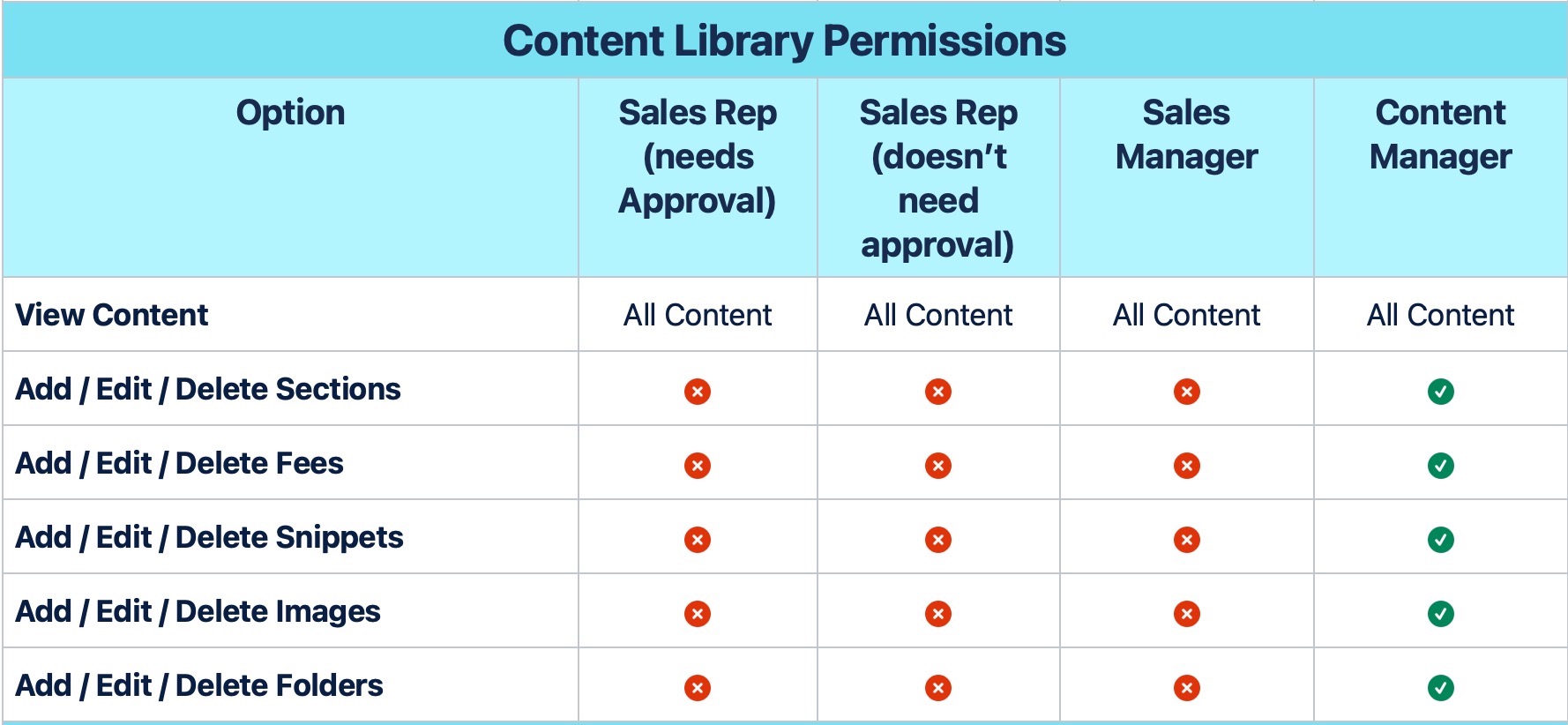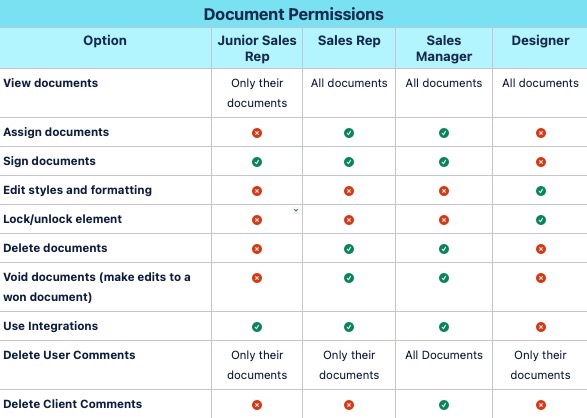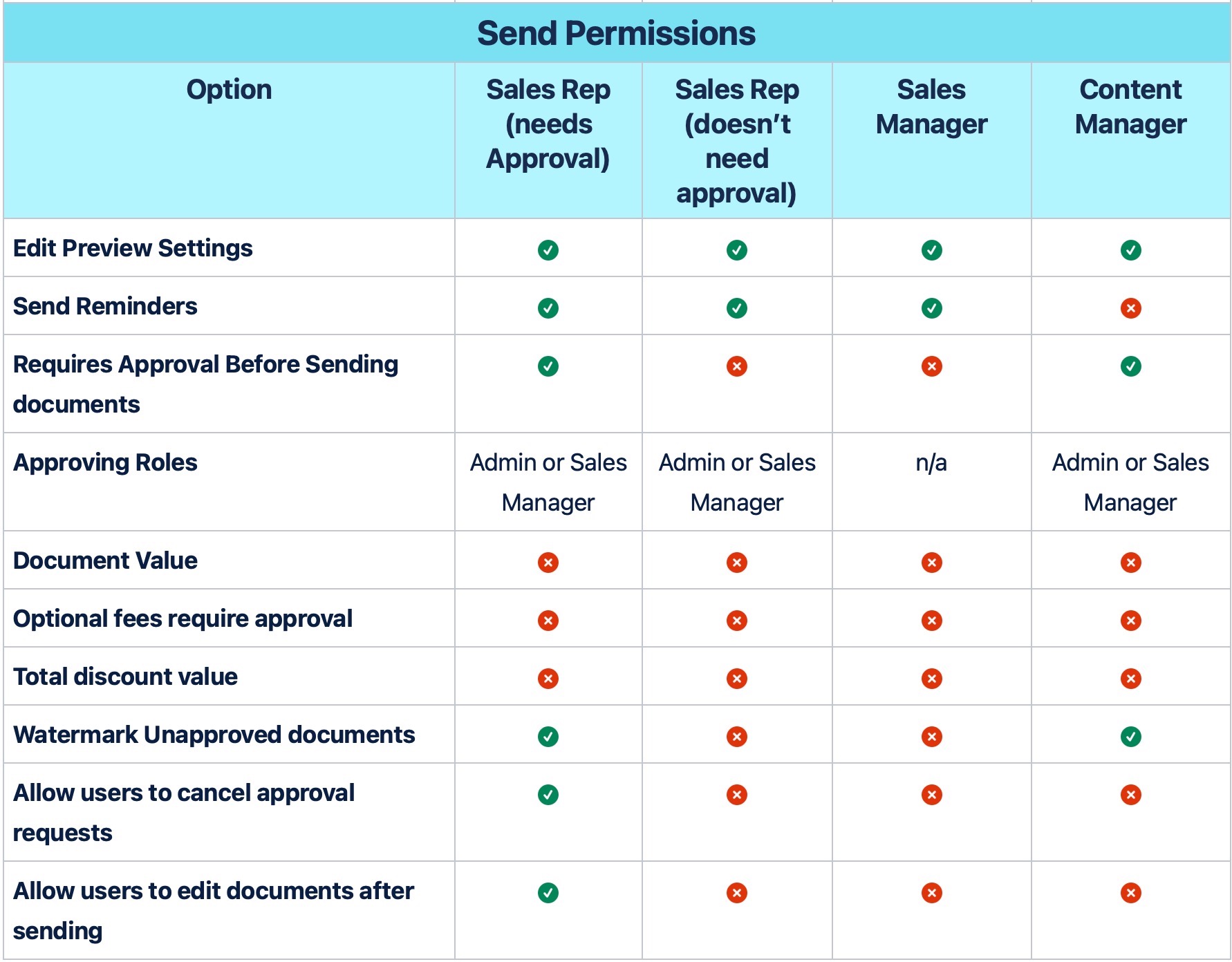 1If you're comfortable with your sales teams sending sales documents up to a certain threshold, enable requires approval, then set the threshold under Document Value. Any document with a value below what you enter in this field can skip past the approval workflow steps.
What To Consider When Setting Roles
Here are some things that may help you, if you're looking to tweak your roles outside of our recommendations.
Can this person be an admin?
Admins have access to everything except billing-related settings. Is this person high-level? Do they need to be able to view everything? Give them admin privileges.
How are you using workspaces?
When using workspaces for franchises, branches, or locations: change view settings to workspace only. If you're only keeping your teams separate with workspaces, give full view access. If your teams can see what other teams are doing, it'll be easier to stay out of each others' way.
Do your sales reps collaborate with each other on sales documents?
If your front-line sales teams rely on each other to build sales docs, they'll need view privileges to match. If your reps don't collaborate, limiting view access can help them focus on their own pipeline.
Worried about reps going rogue?
If you worry that your reps aren't following the playbook, set it so they require approval before sending. You can also enable watermark unapproved documents so they can't bypass this with a PDF.
Building Other Roles
Sales Engineer / Sales Support
Are your sales reps focused on relationship building? Do you have someone else build the doc for them to submit? Follow the Junior Sales Rep setting above.
Lead Designer
Make them an admin and revoke edit account settings to the general design team. Your lead designer can handle the account settings.