Want to limit how much your team can see or do in Proposify? Click here to read our guide on setting roles and permissions.
If you're a member of a large team, you know it can be difficult to coordinate how your team uses your content. Proposify helps you tweak each user's view and edit access so you and your team can focus on their tasks.
This article covers how our Roles and Permissions feature works and how to add users. Click here for a breakdown of your Roles menu. Not sure where to start? Here's a guide of recommended Role Settings.
DON'T SEE THIS FEATURE? Our Roles and Permissions feature is available on our Venti plan. Speak to a Sales Rep to get more information.
The Basics
Proposify has two tools that help you limit the content your team can see and edit: Roles and Permissions.
Roles
Roles are assigned to your user. You can assign general limitations to pages and features using Roles. In addition, you can set whether they require approval before sending a document. You can see what roles are assigned to a user from the Users page.
If there is no role listed, they will default to the Administrator role. Administrators have access to everything in your account except billing.
Permissions
Permissions are assigned to content within your account. Here, you can assign whether certain roles and workspaces are able to view or edit a document.
Setting Roles
You can set roles in two places.
From your Account Settings page, select Roles: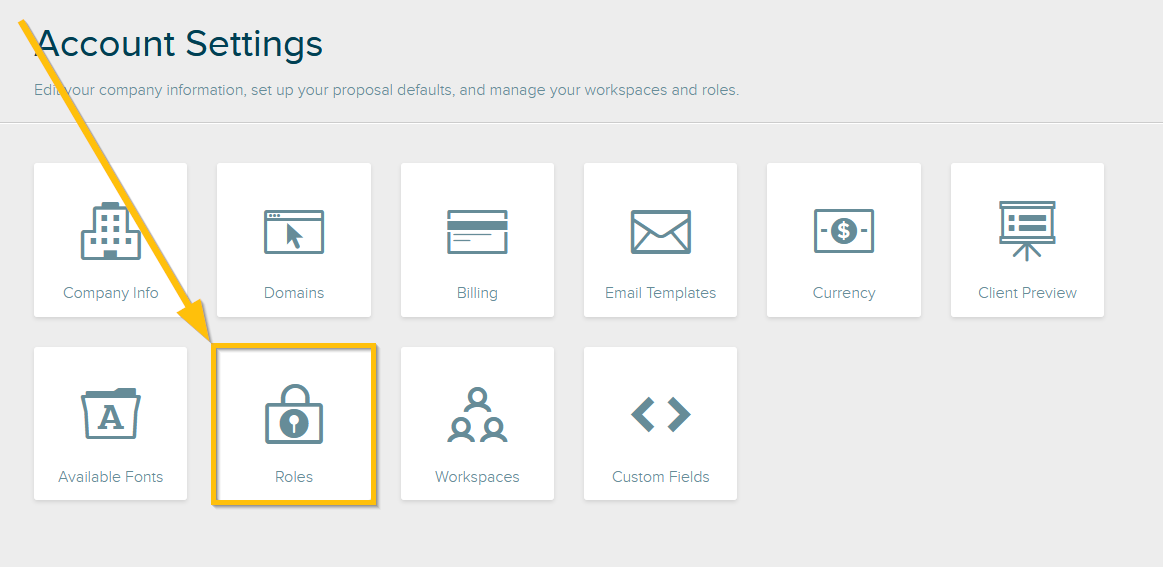 From Users, select Roles and Permissions:

You can view all Roles and Permissions settings here. If you don't know where to start, we also have a handy reference guide for common roles that might help.
Assigning Roles
General Roles and Admins
Assign roles to your team members from Users.
When inviting a new user, expand the Roles menu and select the role to assign them: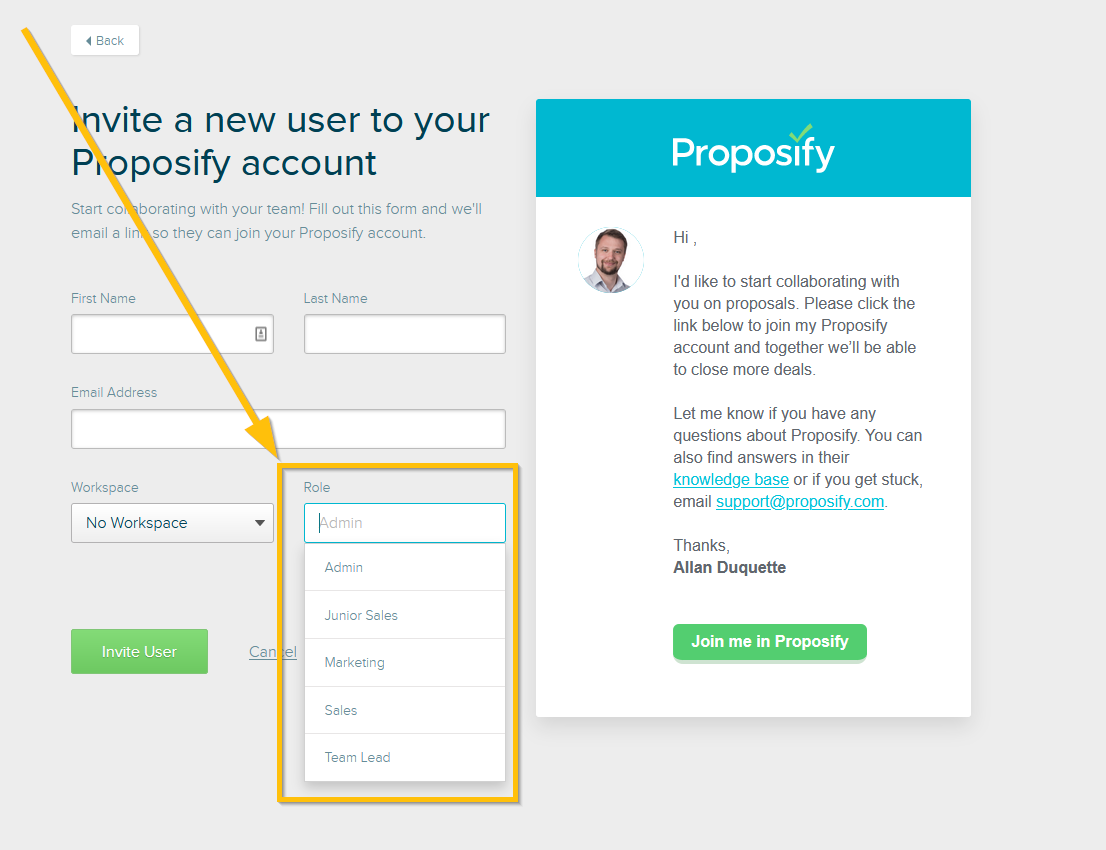 To assign a role to an existing user, select their name from the Users page to update their information. From here, expand the Role menu and select their new assigned role: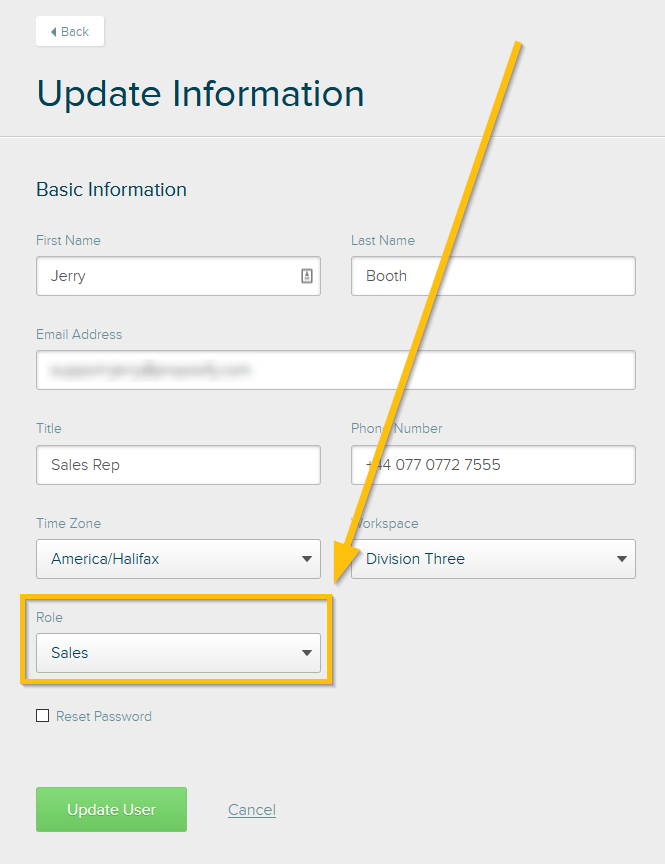 The new role permissions will take effect immediately.
Account Owner
You can change the account owner from Company Info, found in your Account Settings. From there, expand the account owner menu and select your new owner: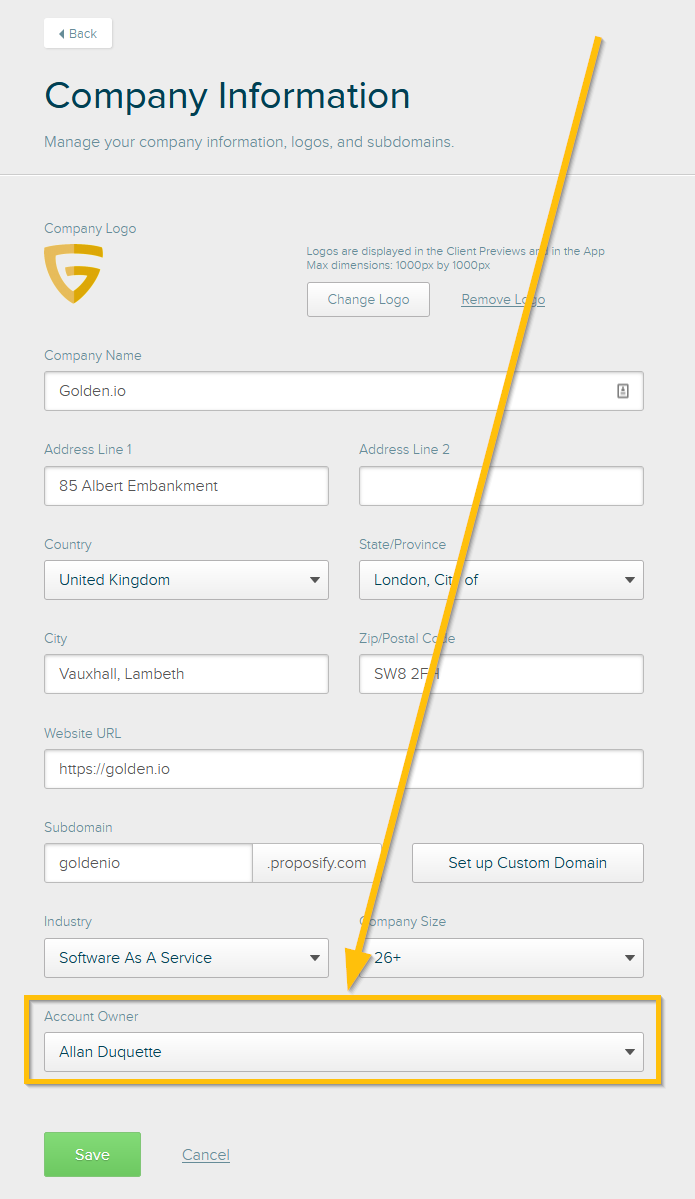 HEADS-UP! This updates the account owner to the new person and will provide access to every part of this account, including billing and cancellation.
Assigning Permissions
Permissions can be assigned to almost all content in Proposify, enabling you to choose exactly who gets to view and edit your content. Your permissions menu will look something like this: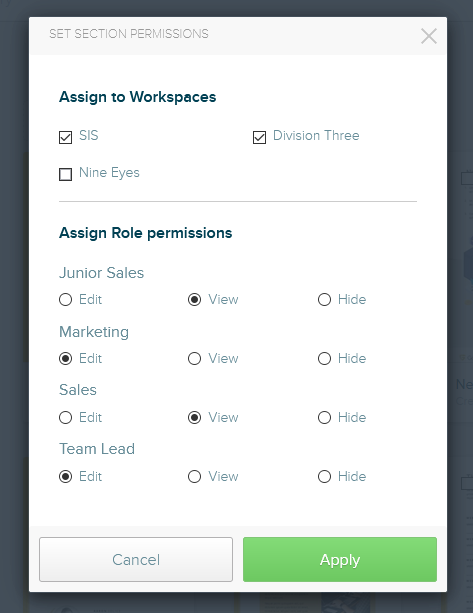 | | |
| --- | --- |
| Assign to Workspace | Disable the checkbox next to each workspace to hide this content from that workspace's library, regardless of a user's role. |
| Role: Edit (Sections only) | This role will be able to make changes to this content. |
| Role: View (Sections only) | This role will be able to view and use this content in their documents, but will be unable to make changes to it. |
| Role: Hide (Sections only) | This role will be unable to view this section in their library, regardless of their workspace. They'll still see the content if added to a sales document assigned to them, though. |
| Waterfall Permissions (Folders only) | Enabling Waterfall Permissions in a folder will apply the folder's permissions to all content inside. This helps you lock everything in a folder without needing to change every item within. Click here to read more about Waterfall Permissions. |
ATTENTION ADMINS: Account owners and Administrators will have access to all content regardless of permission set.
Depending on what you're looking to set, permissions can be applied either by expanding the item's three-dot menu: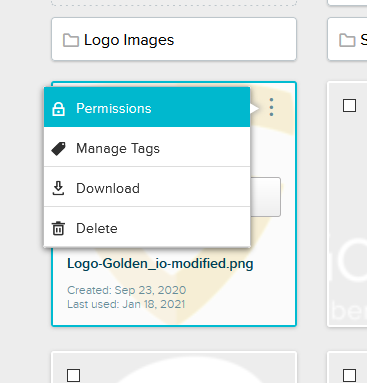 Or by selecting the padlock next to it:

If you're looking to batch-edit permissions, you can select multiple items and select the padlock next to the search bar: