Creating a Non-Disclosure Agreement In Proposify
Here's how you can use Proposify to create the perfect NDA every time.
Step 1: Build Out An NDA Template
There are three options to build your NDA template: Use our pre-made template and tweak it, start from scratch using your own document, or import your PDF as a section.
Import and Tweak Our Template
If you'd like a head start on an NDA, we've got one pre-baked for you. If you've arrived from that link, click Gallery.
If you're in the template gallery, search for "Sample NDA" and click Use This:
WARNING: We recommend having your lawyer go over this template and provide edits to suit your company's local laws. Our templates are all customizable, so you can make any changes to this sample template and make it your own.
Once you import the file, give the template a name and save it to your library. This should take you to that template's editor. From here, you can edit the text (like getting rid of the disclaimer at the top of page 1). By clicking inside the text box:
Once you tweak your text, you'll want to remove the "sample" repeater found behind your text. You can do that by clicking Repeaters from the right-hand menu:
Once in the repeaters menu, click on the "sample" image to select it. Once selected, click the trash bin icon at the top of the image (or press backspace/delete on your keyboard).
Because this is a repeater, you'll only need to do this once. That watermark will be deleted on every other page.
Related reading:
Repeaters
Template Gallery
Build Your Own Template From Scratch
If you've been around as a business for a while, you likely already have an NDA cooked up and ready to go. If that's the case, you can copy and paste it in a new template.
HEADS UP: Be careful when pasting a large document within a page flow text box. It's always best to paste page-by-page, so the editor has time to sort and arrange the content correctly. If too much is pasted at once, the editor may drop some of your pasted content between the margins.
To create a new template, click start from scratch from the template gallery:
This will create a new, blank template. From here, build out the design you're looking for and begin pasting the text from your previous document. From there, you can change some placeholder text with variables. We'll talk more about variables further down in this article.
Related reading:
Page Flow
Copy/Paste
Import a PDF
You can import your PDF as a section. This works if you don't need to customize this template or are comfortable sending it as "one size fits all".
From the template editor, click the + button in the section pane to add a new section.
This will bring up the new section wizard. Select import PDF from the tabs at the top:
Once you click that button, we'll show the PDF import wizard. Drag and drop your PDF from your desktop to the import box, then set a page range for what should be taken (if you want). Once ready, click convert PDF. We'll start importing that content.
Once done, we'll convert each page of your PDF to an image and placed on each page. You're all set to go!
Related reading:
Uploading Your PDF As A Section
Step 2: Build Out Snippets and Variables
Snippets for your reusable content
When it comes to NDAs, sometimes what you're telling people not to talk about is more revealing. If you need to keep things close to your chest, you can keep particular clauses as snippets. That way, you're only placing things that relate to your current agreement and nothing more.
To create a snippet, highlight text inside of a text box. Once highlighted, click Snippets from the right-hand menu.

This opens the snippets menu. From here, name your snippet in the yellow box at the top of the menu, then click create snippet.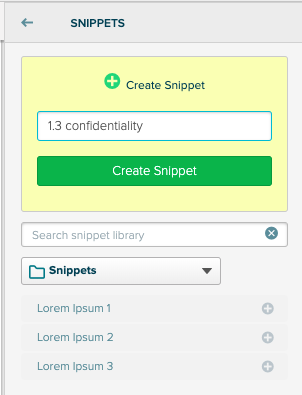 You'll find your newly created snippet at the bottom of the list: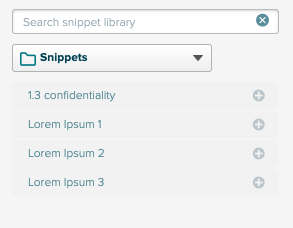 Whenever you need to bring in that clause, open the snippets menu while in a text box and click on that saved snippet. We'll load it to your proposal and apply your current formatting: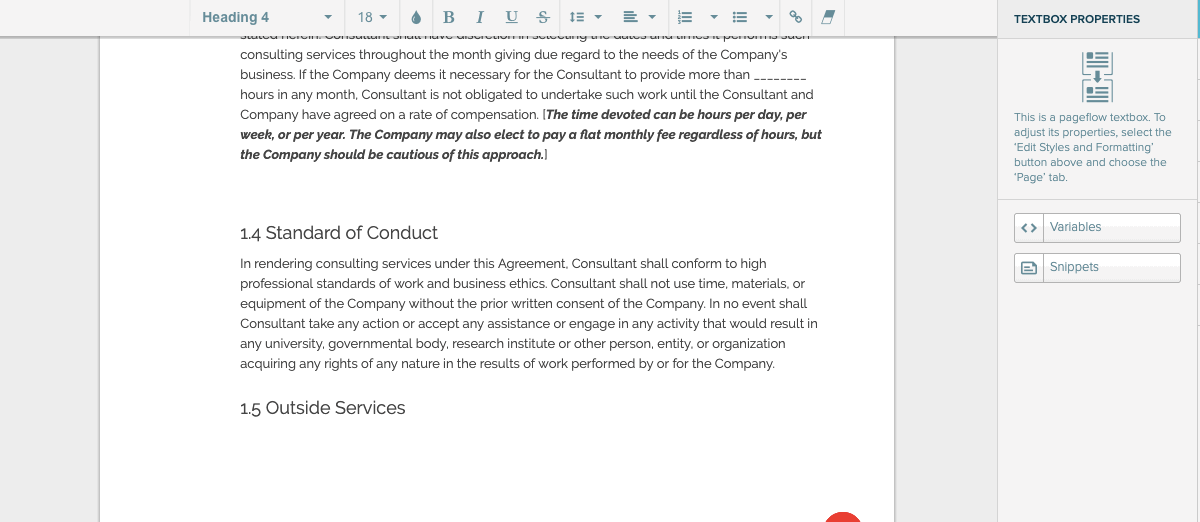 Related reading:
Snippets
Variables for things that change from NDA-to-NDA.
It's happened to everyone. You've sent a contract and thought you've updated every name, address, company detail and due date. Then the moment you hit "send", you've forgotten to replace a name in a vital spot in the agreement. Proposify has a variables feature that replace these names for you, avoiding delays to your close.
To add a variable, click inside of a textbox and click variables from the right-hand menu: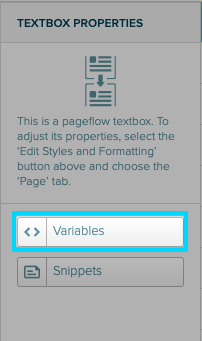 From there, you'll see a list of all available variables:

Click on the one you'd like to add and it will appear on your page. If you're working in a proposal, you'll see the information populate on its own. If you're working in a template, we'll leave it as the variable so you can see where it's located.
Pro-tip: You can also access variables in the editor by entering a hashtag in the textbox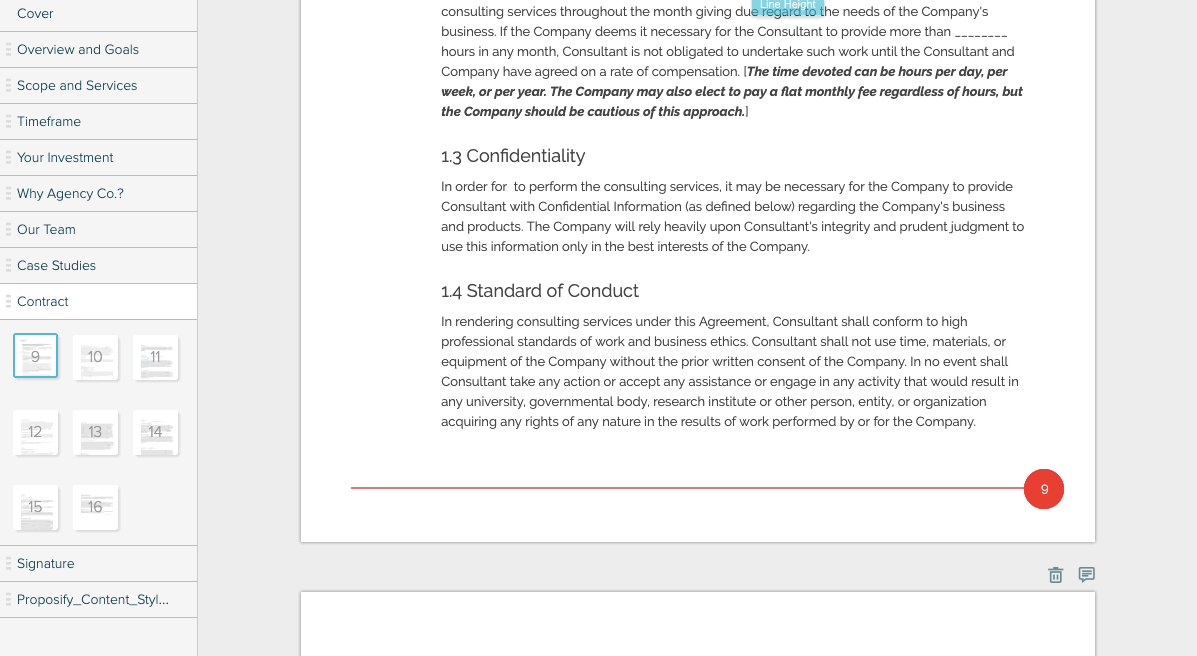 Related Reading:
Variables
Custom Variables
Step 3: Give Them A Place To Sign
Add Signature Boxes
An NDA is pretty useless unless your client has a place to sign it. You can add a signature box for your client from the signatures button in the right-hand toolbar: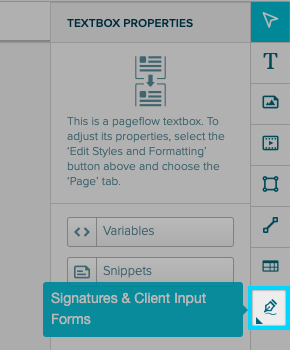 Once clicked, click and drag signatures and initials for your client where you need them. You can drag signature boxes from the top dropdown, as well.
If you're working on a template, you'll only be able to add placeholder boxes for the main client contact. Once you create a proposal with that template, you can add signatures for others.
Sign Yourself
Signing your NDA first speeds up the process and builds trust in the agreement itself. Once you've sent the proposal, you can sign it from your client preview page. To sign your NDA, enter the proposal's preview page. From there, click sign and accept found at the bottom of the page:

From there, enter your signature and click sign & accept from the "adopt your signature" menu: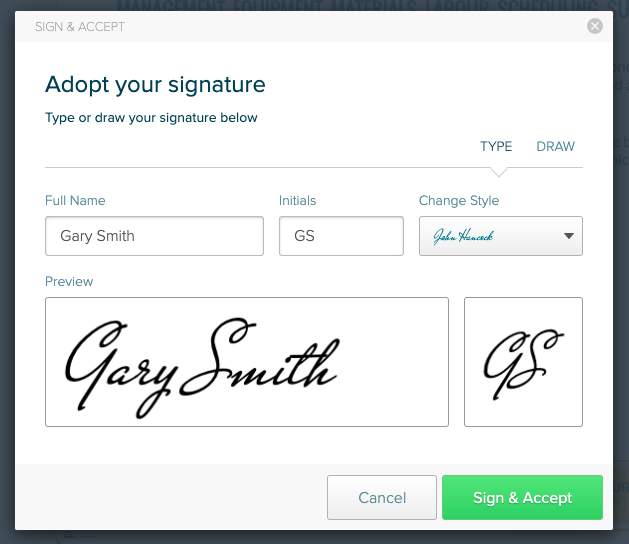 Finally, acknowledge that this is a binding contract by clicking I agree: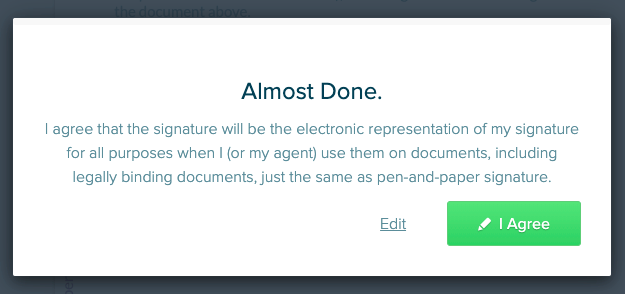 And you're done! Once your client signs, we'll let you know it's been approved and you can move on to the next stage.
Related reading:
Adding Signatures To Your Proposal
Signing Your Proposal
Step 4: Tweak the Preview Page
Once you've created your template and built out an agreement for your client, you should tweak the preview page to better reflect a contract. There are some functions in your proposal's preview page that may not be very useful for NDAs. You can tweak your previews to remove some of the more confusing parts. Once you're in the preview page, click show preview settings from the top right of the page:

This opens the preview settings menu, where you can tweak what to include in your proposal. Here's a breakdown of what you may want to keep:
General Settings
Select language
This translates the uneditable stuff in your proposal, such as the sign and accept button. Update this if your client doesn't speak fluent English.
Select date format
Here in Canada, we use mm/dd/yyyy. If you're living in a place that prefers dd/mm/yyyy, though, that could be very confusing. You can update the date format from this dropdown.
Allow comments
If your client has a question on a particular part of a page, it's a good idea to leave this option active. That way, they have a place to reach you if they need something clarified.
Show accept/decline buttons
You'll want to keep this active so your customer can sign.
Show total in footer
Disable this feature. If there's no fee table in a proposal, the value will show $0. Your NDA will most likely not have a fee table, so it's best to avoid confusion.
Show PDF download
Your client will want to download a PDF copy of this agreement, in the event they need their legal team to take a look. You should probably enable this option.
Show chat widget
The chat widget lets your customer get in touch with someone if they have any questions. If you have the people available, it may be a good idea to leave this active. If you don't want to bog your inbound sales team with the details of an NDA, though, you can disable this option.
Password protection
If you're including sensitive info in your NDA and want to add an extra layer of security, enable this option.
Design Settings
These options tweak the look of your NDA. If your NDA is only one section and a few pages at max, you may want to consider disabling show side panel. It gives your agreement more focus.
Now you've learned how to create an NDA template to build a framework for your agreements. You've also learned how to use snippets to add addenda and clauses. You can now use variables to quickly and reliably replace important contract details. Finally, you can add signatures, sign, and tweak your preview to give extra value to your agreement.