Here's a quick guide to setting up your account.
Welcome aboard! We're so happy to have you here. Coffee machine's over on the left, the snack table is in the kitchen, and please: no fish in the microwave.
You've already got a wide number of bells, whistles, knobs, switches, and tools at your disposal. Let's get you acquainted with the tools to help you improve your closing process.
This article covers the account administration stuff to do before getting to the nitty-gritty of building a proposal. It should go without saying that you'll need to be an admin to do administrative stuff.
Fill Out Your Profile
This is available on all plans.
Expand the profile menu at the top right of the page to expand your personal menu.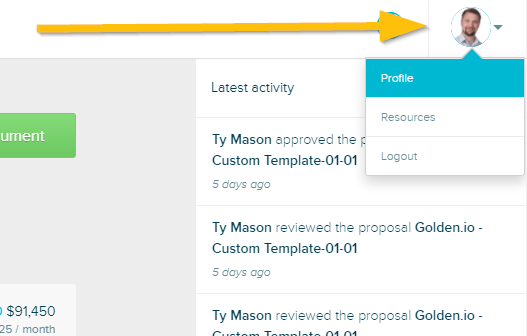 From there, select Profile to reach your Profile page. Here, you can personal details about yourself, including:
Name

Profile photo

Job Title

Phone Number

Time Zone

Workspace (if available)

Password
As an admin, you can also change details for your users, including resetting their password, from the [Users] page.
Link Your Integrations
Stripe is available for all plans. Salesforce is available for Business plans. All other integrations are available on the Team plan.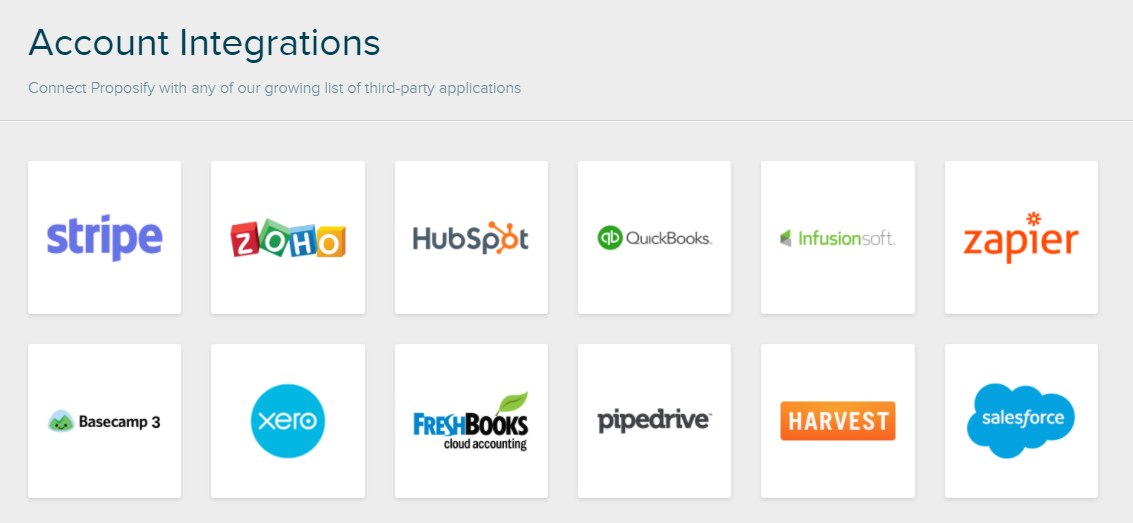 Proposify works with a wide array of CRM and Invoicing integrations, as well as productivity tools like Zapier and Basecamp 3. You don't need to know how to install every integration, though, just the ones you have. Click here to view our knowledge base to find installation instructions for the ones you need.
Don't see your SaaS product of choice? Try Zapier. It helps you link your apps even if they don't have a baked-in integration. Google "Zapier Proposify [your software name]" to see if there's a way to integrate our service with the one you need.
Reach Your Account Settings Page
The following tools can be found in Account Settings. Reach your company info page by selecting Settings from the navigation menu:

Fill Out Your Company Info
This is available on all plans.
Select Company Info: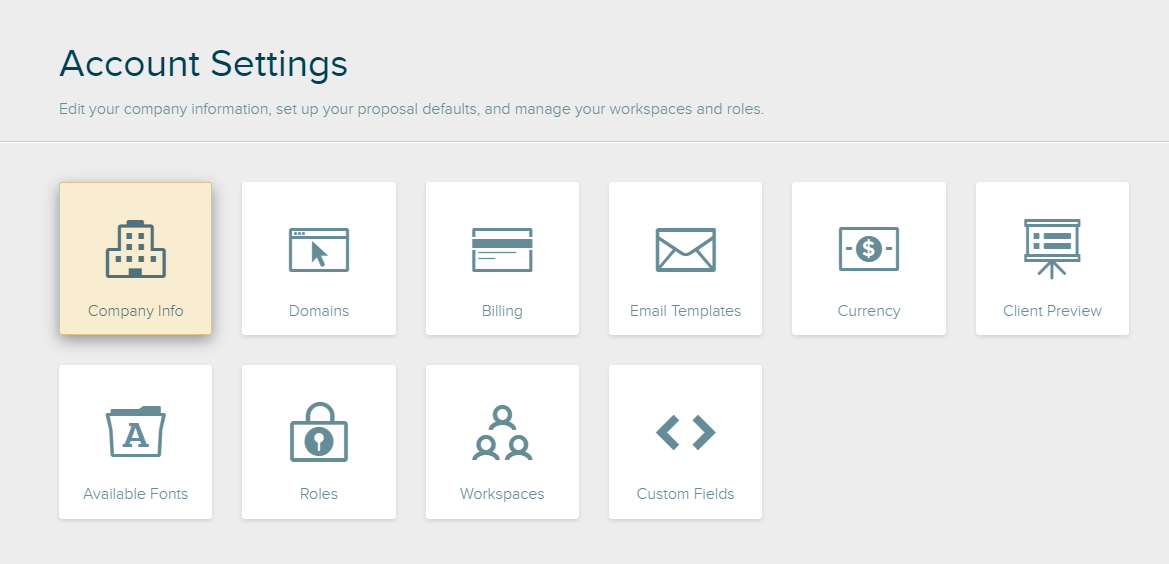 From here, enter the important details you need for your company, including:
Company Name

Company Address

Your Website URL

Your Subdomain (what you want before ".proposify.com")

The Account Owner
We may have filled out a few of these details already. Take a look and make sure we got it right.
WARNING: Your proposal links are tied to the subdomain you choose. If you change the subdomain, those links will no longer work. Make sure to re-send any documents if you change this.
Add Your Custom Domain and Email
This feature is available on Team and Business plans.
This gets pretty techie, so you may need the help of your friendly neighbourhood IT person to perform these tasks.
Sending a sales document should highlight your company, not Proposify. This step helps you change your proposal URLs from http://yoursubdomain.proposify.com to whatyouwant.yourcompanydomain.com.
You can change your custom domain details by selecting Domains from Account Settings: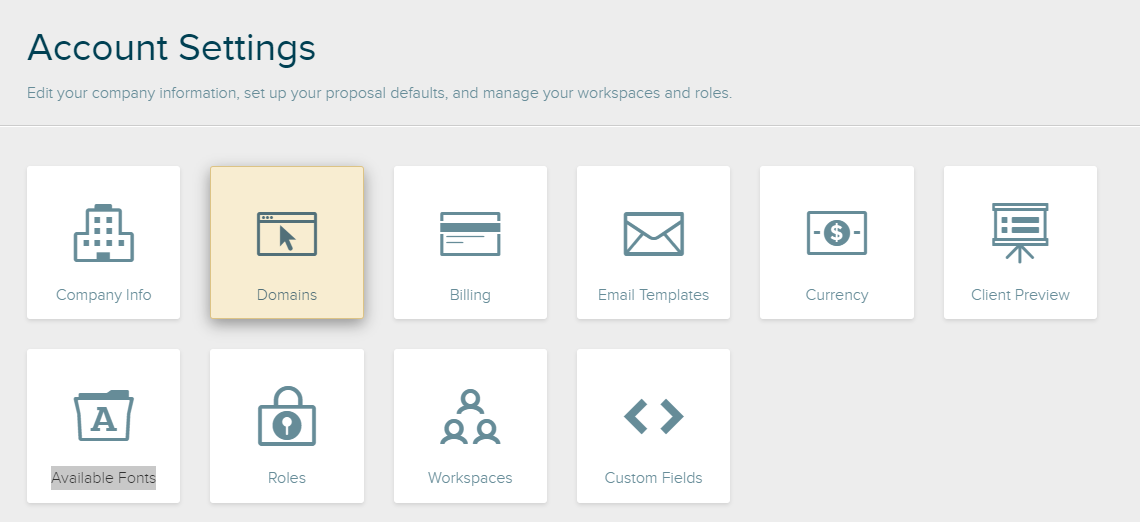 Click here to read about setting up a custom domain.
By default, emails sent from our app are sent to your prospects from myproposals@proposify.com, with you as the reply-to. In other words, we do the sending and you get the replies.
If you'd like to do all the heavy lifting on your end, select the click here link in the Domains page:
Our set-up process will guide you through the rest. For more instructions, click here to read about setting up your custom email.
Set Workspaces
Workspaces are available on Venti plans.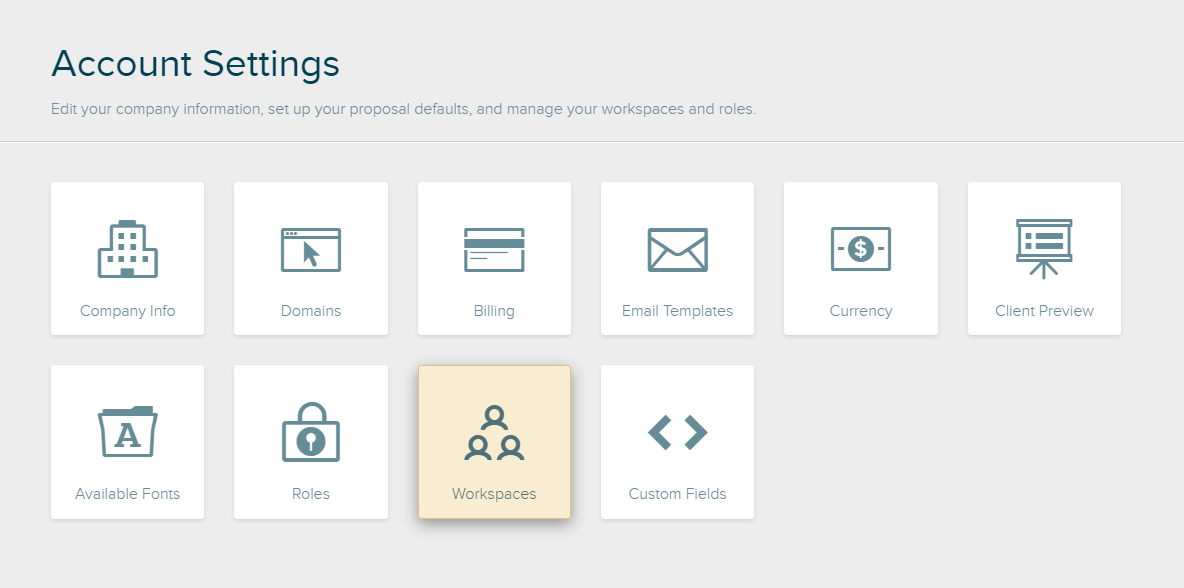 Workspaces are like sub-accounts. You can have different account settings for different branches, franchises, or affiliates.
Each workspace can be equipped with its own custom domain/email, company info, logo, currency, preview settings, and email designs. Click here to learn more about workspace settings.
Set Roles and Permissions
Roles and Permissions are available on Venti plans
Roles and Permissions allow you to limit edit and view privileges to members of your team, based on role. This helps keep your content safe from accidental edits, rogue sales reps, or costly errors.
Select Roles from your Account Settings page.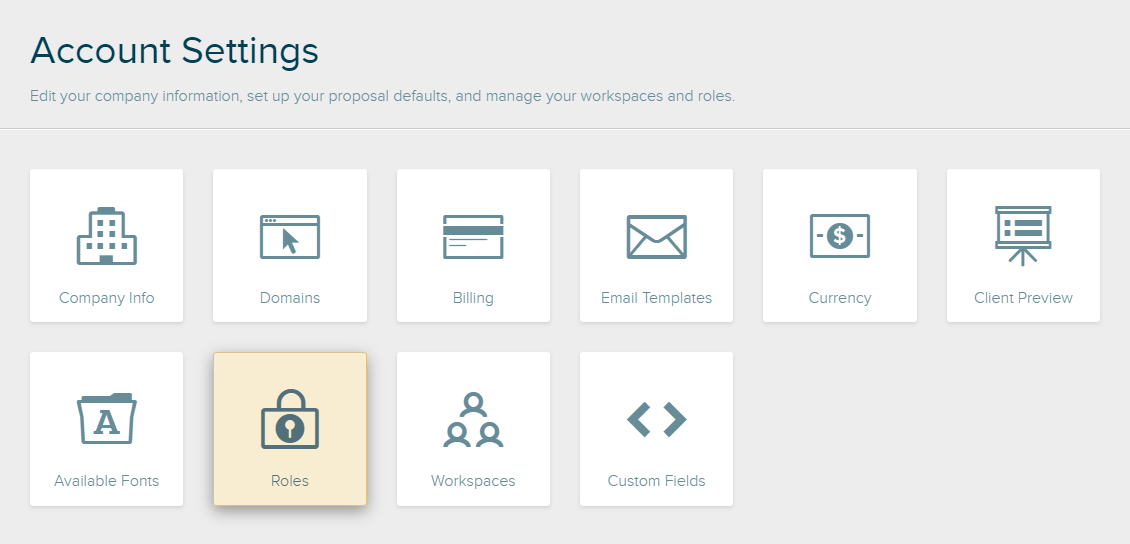 From here, select Add Role to create a new role from scratch. You can pick and choose exactly what accesses this role has. Don't know where to start? Here's a reference guide on setting roles by department.
Once you make a role, assign it to users from the Users page. Select a user, expand the Role menu, then select the role you need.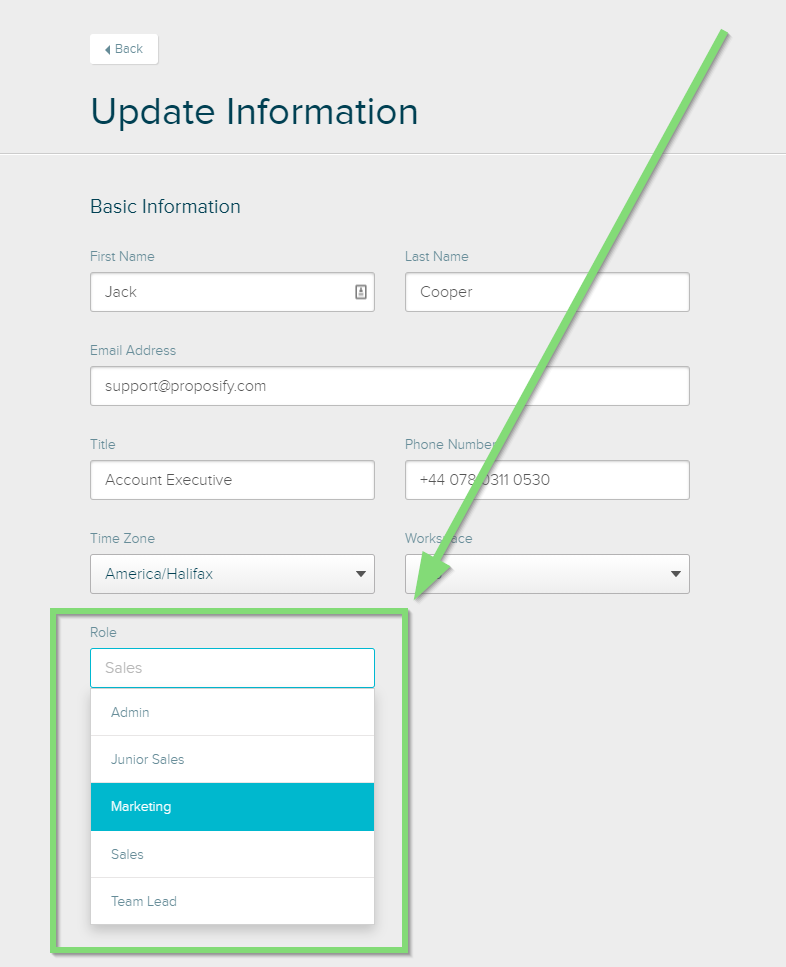 You can also assign them to a role the moment you invite them.
That's it! Your account has been customized to suit your business. Now you can invite other users and start closing!